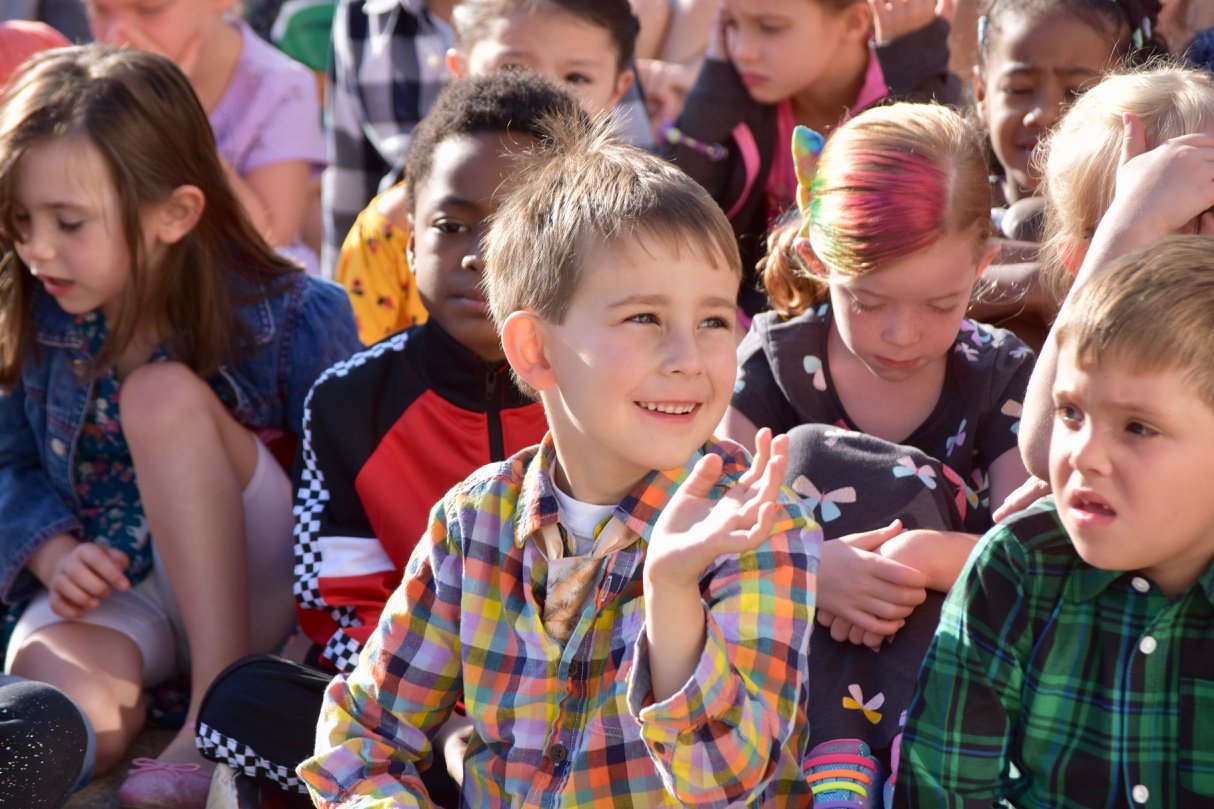 This past week was Back-to-School Week for many of us. Or the week before was. Or next week will be. But anyway, whether we are students, teachers, administrators, parents, or all of the above, Back-to-School Week is a Big Deal. It is filled with excitement and hopes and good intentions and packed lunches and probably nerves and hopefully not too many disappointments.
My Back-to-School Week began with three Institute Days with staff, and two days with students. The morning of the first day for students, I was privileged to receive and read this blogpost, written by a school administrator from another district who also happens to have two daughters in my schools. This was the perfect read to start my morning… a wonderful reminder that every child is precious, and that we must carefully examine our school systems and practices through lenses that include celebration of the individual, unwavering high expectations, and a commitment to equity.
As a new superintendent in a PreK-8 school district, there are of course many To Dos on my list as the year gets started, but the item at the top was obviously being in the schools with the students, teachers, secretaries, custodians, and principals. So those first couple of days, I got to traipse all over the place, from one elementary school's First Day Flag Raising Tradition to another's early morning breakfast. I got to meet excited Kindergarteners, savvy fifth graders, and confident eighth graders. And the hair – the fades and the bright colors and the gold-woven braids! And the fashion — Oh the fashion! So maybe we'll start there, as my goal now is simply to let you glimpse some of my favorite moments of those first two sun-filled days.
Students Announced Themselves through Garb and Gear:
A first grader passed me in line in the hallway, turned my way, and proudly stated, "I'm wearing a tie!" Yes, indeed he was. And a checked shirt. And checked bermuda shorts. Every color imaginable going on in that ensemble – a style-maker, for sure! (Yep, check out the photo at the top… that's my little friend, captured perfectly by our Media Relations Specialist, Leslie!)
A second grader showed up with a t-shirt that said School Rocks! Ok, it would have been even better if that t-shirt had been on an older kid. But who am I kidding — that is just unrealistic.
And the sassy tutu dresses! And the mermaid backpacks!
And here are my favorite Kids Encouraging Kids and Friendship Moments:
A child happily shouted to mom, "I made a new friend!" YES!!!!
A Kindergartener turned to a tablemate and asked her, "You're going to be my best friend, right?" (I'm happy to report that she agreed with this plan!)
First grade class was huddled up around a book. Child 1 raised a hand to answer a question, but then was stymied for an answer when called upon. Child 2 answered. And then Child 3 turned to Child 1 and said, "Is that what you were going to say?" What a way to support a buddy!
It seems that I spent a lot of time in first grade. Well, I mean, first grade is just joyous… how could I not! And here are two more of my favorite first grade moments:
Here's the narrative: "Today is Batman's birthday!" (Yes! Yes it is!)
Teacher was reading aloud the book First Grade Stinks by Mary Ann Rodman, and one happy student announced, "First grade is the best grade I've ever been in!" What an old, wise child…
I got to see students at various grade levels using sensory supports to help them ease into school:
Students in some classes had flexible seating… they self-selected the type of chair that would best help them to learn. Stool or armchair? Low or high? Wobbly or sturdy?
A barely verbal girl with Down Syndrome soothed herself by happily unpacking a box of stuffed animals, greeting each doll lovingly. This moment was very quiet, and very magical.
Some smart and creative primary teachers gave their students little tubs of Play-Doh to help them keep busy and calm while supplies were unpacked and checked in and such.
If it appears that I didn't spend a lot of time with older kids those first days, it isn't so. But the older kids tended to keep their excitement on the Down Low, carefully checking each other out as they staked claim on their places in their new classroom societies, so I just don't have bunches of cute stories to share about them. Of course, this former fifth grade teacher knows that those older kids will get comfortable mighty soon, and then their personalities will come pouring out!
Students in our Early Childhood Center didn't start until this week. I can't wait to greet those little ones tomorrow, to see school as they see it! In the meantime, I will watch this video one more time tonight. We invited families to secretly send in Back-to-School videos of the students in order to greet the staff on our first Institute Day. Leslie, our Media Relations Specialist, put it all together with great flair. Enjoy… it is a special peek into how many of our students feel about the start of school. Of course, we know that there are students who don't greet the first days of school with unbridled joy. There is separation difficulty and social anxiety and disappointment and much more. Whatever past experiences and emotions our students bring with them at the start of school, we are here to support them through those first days, and every day beyond. I promise.
Welcome back to school, friends!